London is where you'll find the most exciting events of the new season.
Located on Berkeley Square, PAD is a fair devoted to modern art and design. We're delighted to present a selection of major works there by René Magritte, Alexander Calder, Arnaldo Pomodoro and Lucio Fontana. From the unique yellow of this exceptional Concetto Spaziale by Fontana dated 1960, to the elegant and imposing Rose des sables by Pomodoro, we are offering a well-chosen but eclectic selection at this year's fair.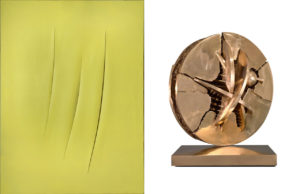 PAD LONDON
Berkeley Square – Stand A21
From 1 to 7 October 2018
FRIEZE MASTERS, in Regent's Park, just a few steps from the ritual gathering of contemporary art, is the opportunity to discover the masterpieces from the past. We will be showcasing a collection of recent acquisitions, some of them as yet unseen, ranging from the Flemish Primitives to the finest paintings of the 17th-century northern schools. Visitors will be able to enjoy portraits, fantastical scenes by the followers of Bosch or rediscovered paintings by the Cranachs – father and son –, and this spectacular Crucifixion executed by a mannerist painter from Antwerp circa 1505.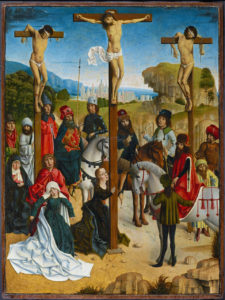 FRIEZE MASTERS
Regent's Park – Stand F09
From 3 to 7 October 2018
Two exhibitions that are bound to delight everyone.
The first week of October? We'll be expecting you in London!