TEFAF Maastricht 2019
Preview days 14 – 15 March 2019
Public days 16 – 24 March 2019
Booth 340
M-1 before the opening of TEFAF Maastricht!
We're delighted at the thought of sharing a series of important paintings with you, illustrated in our new catalogue, at the most well-established fair.
What better way to begin than with the seasons, exhibiting Pieter Brueghel the Younger's iconic Summer and the snow-bound Adoration of the Magi. Two examples among many others serving as solid proof of the quality of his paintings: no doubt about their condition, the colours are extraordinarily fresh!
A nuanced palette and a highly original style question the astounding Crucifixion dated from the second half of the 16th century. An underlying mastery whose pictorial quality easily matches that of Cranach's Mocking of Christ.
Small formats for delightful cabinets: Capassini, Clouet and Bouts provide us with portraits of prominent men. Combined with charming landscapes and fantastical scenes inherited from Brueghel and Bosch, these various genres can be enjoyed in the graceful works of Hoefnagel: Campaspe, the delicate muse posing for Appelles, is the discreet temptress of a surprising 2019 edition!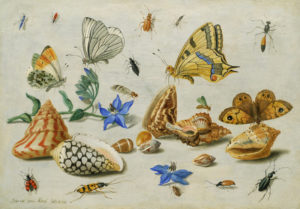 JAN VAN KESSEL
Study of insects, flowers and shells, 1659
Signed and dated « JOANNES VAN KESSEL FECIT A. 1659 »
Copper : 16 x 22 cm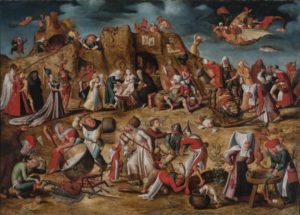 JAN VERBEECK
The Temptation of St. Anthony,
Circa 1550-1560
Panel : 75 x 106.5 cm
FRANÇOIS CLOUET
Portrait of Charles IX
Oil on panel : 31.4 x 23.5 cm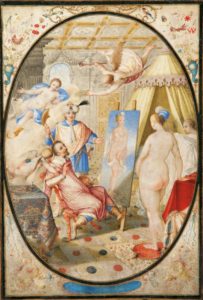 JACOB HOEFNAGEL
Apelles painting Campaspe in the presence of Alexander
Watercolour with gold highlights : 22 x 16 cm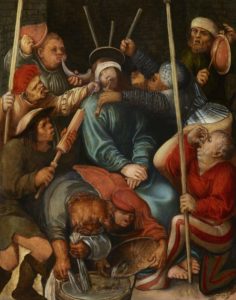 LUCAS CRANACH THE ELDER
The Mocking of Christ
Circa 1515-1520
Signed with the artist's winged serpent
Panel : 35.9 x 28 cm