Art Fair
Fine Arts Paris & La Biennale
November 9th - November 13th
This wonderful art fair takes place at the Carrousel du Louvre from November 9th to 13th. We shall be there as usual: you can find us on Stand 3, where we are exhibiting some exceptional paintings.

We would like to draw your attention to just three of the works that we will be showing: a still-life, a portrait, and a twinned pair of landscapes. They are all by Flemish masters, and they all have something more to say than immediately meets the eye.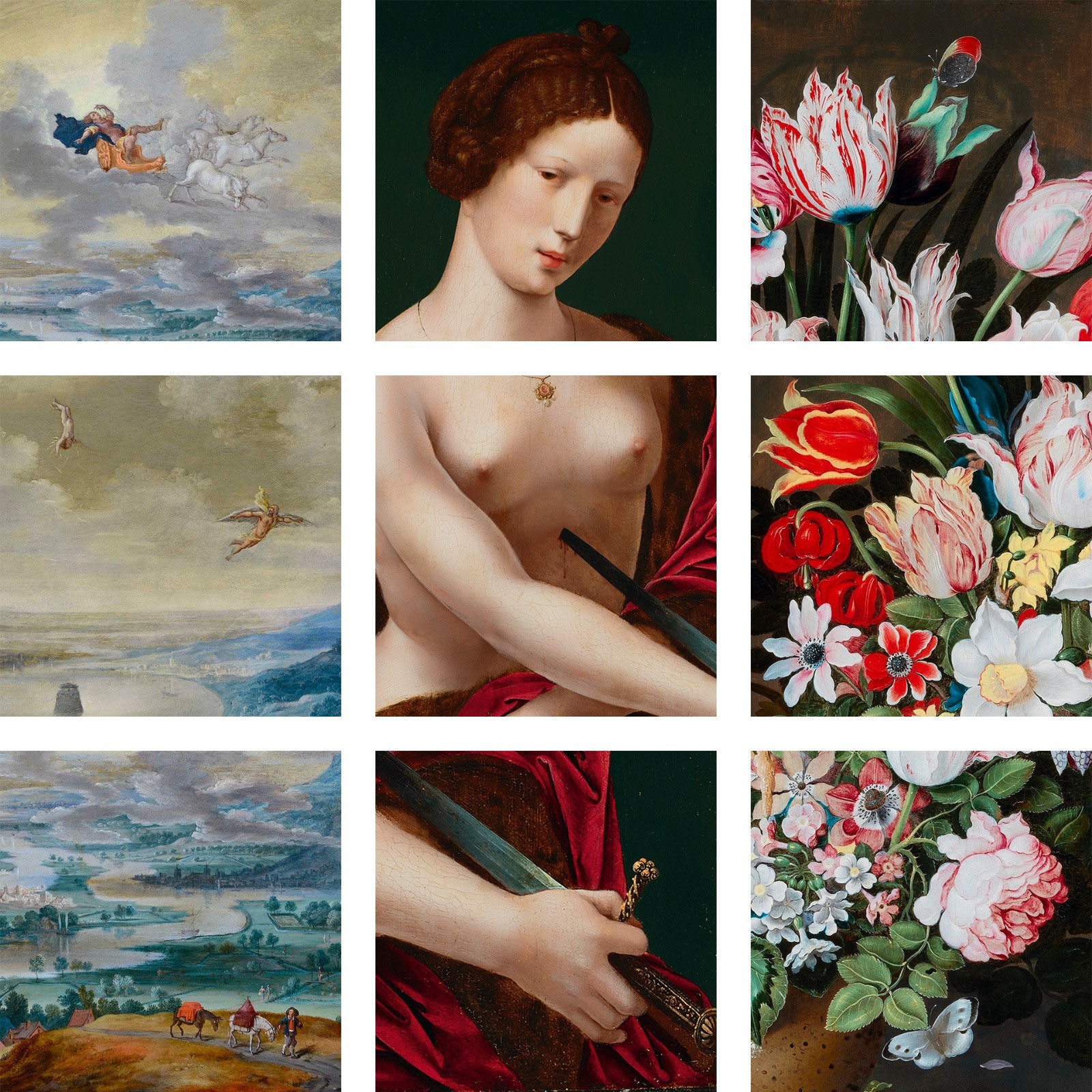 The still-life is a magnificent vase of flowers by Osias Beert the Elder, painted in the 1610s. There is something magical in this composition. Practically every flowerhead is fully visible, as if they had all been laid out flat like specimens on a table. But look again, and the bouquet has depth and volume, like a floral balloon. It is almost an optical illusion – aided, certainly, by the sheer vibrancy of the Beert's palette and the blackness of the background.

These flowers are also a Christian parable. The heads of the variegated tulips are drooping, and petals are beginning to fall. So they are a reminder that extinction comes to us all. But there is hope too – and it takes the form of butterflies, almost hidden among the blooms. The butterflies serve as a symbol of rebirth and resurrection. They say: after death, there is life everlasting.

The two landscapes are also paintings with a moral, this time drawn from Greek myth. The topography of Pieter Gijsels' paintings is nigh-on identical in both copper panels – a low hummock in the foreground, sheer cliffs to the right, and a sky aglow with lambent light – but the paintings tell different stories of hubris and over-reach.

One is the well-known tale of Icarus, who flew too near to the sun. We see him falling wingless from the sky while his father Daedalus looks on aghast. The other landscape depicts the less familiar Fall of Phaeton , a king who dared imitate the thunder of Zeus by racing his iron-wheeled chariot across a specially constructed bridge of bronze. In the painting we see the king charging his horses across the sky – a scenario that can only have existed in his own megalomanic imagination – moments before Zeus exacts his punishment.

Our third painting is a portrait of Lucretia by the so-called Master of the Female Half-Lengths. It is a striking nude study: the sitter's auburn hair is echoed in her beautifully rendered scarlet robe. And as with Beert's flowers, the dark background accentuates the strong colours, as well as highlighting the flawless whiteness of her skin, which is as smooth as an alabaster vase.

Lucretia is so serene that is unclear at first (at least to a modern observer) that this is a woman in the act of suicide. Contemporary viewers, however, would have known that her self-sacrifice led to the fall of a tyrant – so in this work the nemesis is happening elsewhere, off-stage. The Lucretia that we see here, meanwhile, is a political martyr, brave and saintly. That explains her unearthly calm: she is a kind of civic icon, someone whose idealism has taken her beyond ordinary concerns of life and death.

Do come by our stand if you are at the fair next week. We will be delighted to show you these works and the other fine Old Masters that we are taking to Paris – paintings by the Brueghels, from the studios of Lucas Cranach and Rogier van der Weyden, by David Teniers and Frans Francken.

We will be pleased, as ever, to see you there.